What is IP PBX / PABX?
IP PBX (Private Branch Exchange) is a private telephony switch, allowing the owner (which may be an organization or any kind) to act like a mini-service-provider for its users, while, normally providing many additional features, such as call transfer, call-waiting, IVR (Interactive Voice Response), queues, reports and more. As the organization is the owner of the PBX, it is not being charged for internal calls (calls between extensions that are both registered on the PBX), though, based on the type of service, it may charge for such calls (such as in the case of a business center providing telephony services to the tenant-businesses).
The phone handsets in any business or other organization are almost never connected directly to the PSTN (Public Switched Telephony Network), but rather to the local PBX which provides it with dial-tone and all its features.
Innovative compact IP-PBX system. Silent, powerful, environmental-friendly PABX appliance, small shipping volume.
Up to 200 concurrent calls. 30 extensions included. Up to 500 extensions with additional licenses.
Switchboard, Statistics, Cloudphone mobile & desktop IP Phone, CompleteConcierge hotel interface.
Innovative enterprise IP PBX, hospitality phone system solution, call center phone system.
Cost-effective, small environmental footprint, reduced shipping costs. Model line includes FXO & SSD with 2 Ethernet ports versions.
What is the Difference Between PBX and IP PBX?
The "IP" in "IP PBX" stands for Internet Protocol, meaning that IP PBX is a type of PBX that can use computer networks for sending and receiving voice. This usage of computer networks for voice is also known as Voice over Internet Protocol, or VoIP.
In the past, phone handsets and lines were either analog or digital, but in recent years all telephony implementations use IP phones (VoIP-based phones) besides very specific use cases where analog or digital phones are still required. One such example may be with existing analog infrastructure, such as with a hotel looking to renew its phone system, but does not want to go into the investment of rewiring the rooms to support IP phones.
As for analog and digital trunks (lines), the use of those is still more common in some cases, for various reasons, such as infrastructure and regulation.
Working over internet protocol allows the IP PBX to utilize computer networks, including the internet, to make calls. This opens options such as having remote extensions (IP phones that are not physically on the same network as the IP PBX) and "softphones" – software-only IP phones that may run as an application on a mobile device, laptop or desktop computers. Such softphones will benefit from all the IP PBX features, while not requiring any dedicated hardware.
In short, IP PBX is a PBX that can work with IP phones and IP trunks (lines).
Typical PBX Features
Normally, a PBX (or IP PBX) has a set of features that allows users to make the most of their phone calls. These features vary among different PBX models, but some of the common features are: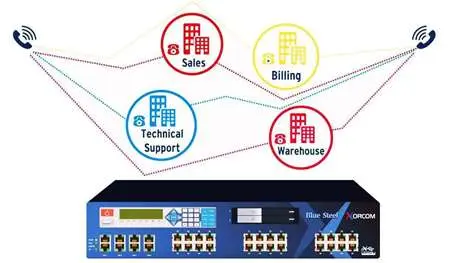 Advantages of IP PBX
The advantages of IP PBX systems derive from the fact that they are software-based and that they use normal computer networks. The most immediate benefit that comes to mind is the fact that, using IP PBX, one does not need to have a dedicated voice network anymore, as a legacy PBX would require, but rather use a single network for both voice and data. Saying that, many organizations choose to separate voice and data networks for security and quality assurance reasons.
Other benefits include using standard IP phones (typically SIP phones), the ability to create and use remote and mobile extensions, improved flexibility with computer-telephony integration, call-cost reduction, the ease of adding DID (Direct Inbound Dialing) numbers, including numbers of different regions and countries and more.
In below video we explain the place of IP telephony in the network.